I Want To Be Part Of Sample Room's Blogger Circle!
Hi everyone! If you've been following me in any (or all) of my social media profiles, I'm sure you know by now that I am aspiring to be a part of the 2014 batch of
Sample Room Blogger Circle
. This year, they are searching for five more bloggers to be a part of the coveted group and I really would like to be a part of that. Last year, they already called for 10 bloggers to be a part of the
first batch
and I hesitated because my blog was new in terms of beauty blogging.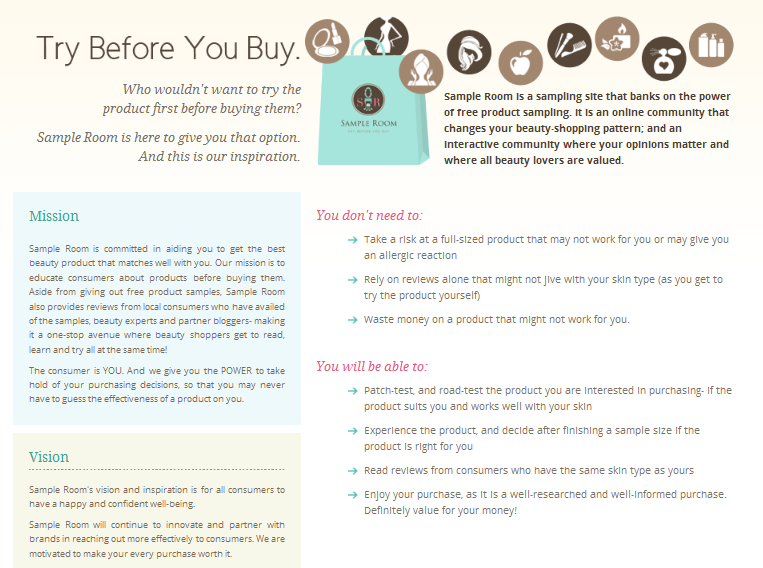 But I've been a member of Sample Room ever since they launched their sign up sheet (by that I mean that I meant back when their website was still closed). Then finally when the website went live, I couldn't sleep. I had to get my first sample. I remembered their website couldn't handle the volume of people logging in, but I was soooo lucky to get a hold of my Benefit Porefessional, which I still treasure up to this very day. (Srsly, no kidding! :P)
My review of my first sample
I've always liked the idea of trying products before buying them, because not everyone can afford to take a chance on items that might not work in the long run. I know I myself have spent a good money for stuff that I wish I had the chance to try first, because I end up not using them. It's good if I can give them to someone, but sometimes there are just some products that doesn't work out for you, you wouldn't wish for someone to experience the same fate you did (just saying).

My first VIP points purchase
My readers are just like me, and most of all, they're very budget conscious. I am a very passionate blogger and I would like to share to my readers what's new out there and what's worth their money. Sample Room teaches people to be smart when it comes to their money. So far, I haven't encountered anything that I didn't personally like (true story). I would like to be a part of something that makes a difference and shocks people almost every time they have something new.
Sample Room's 1st Thanksgiving Party
Besides, who doesn't want to share the good news, EVERY TIME? Oh, and also, come on, let's be honest. Free samples, anyone?
Here are my social media entries:
I want to be a part of Sample Room Blogger Circle bec. I want my blog to be a part of something significant @SampleRoomPh

— Yette Cruz (@yettezkiedoodle) April 15, 2014
Loves, I really hope that you can support me in this particular endeavor. There's nothing I'd love more at the moment to be a part of Sample Room's Blogger Circle. I love Sample Room and I don't know how else I am going to say that. I probably sound like a kiss a*s but I'm very passionate about this.
Either way, wish me luck
Related posts: