Kimpossibly Gorgeous' Giveaway Haul
I don't usually join giveaways since I know that there's a small chance of me winning them. I mean, don't get me wrong, the prices are really enticing and I'd love to win them, and there's nothing wrong with taking chances. However, sometimes, I prefer putting them on my wishlist instead. But for some reason, I decided to join a couple of giveaways this month and one of them was
Kimpossibly Gorgeous' Giveaway
and what do you know?!
I WON!!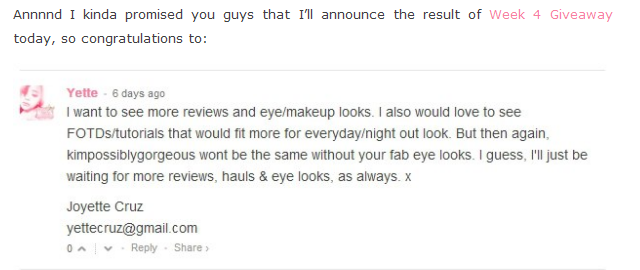 So last February 16, (which was more than a week ago, I know, I'm such a bad blogger these days -__-) I woke up and found two packages in my room (one was from Glamourbox) and I was soo stunned to find out that one of them was my prize from Kim's giveaway. Anyway, here's my loot filled with makeup & skincare goodies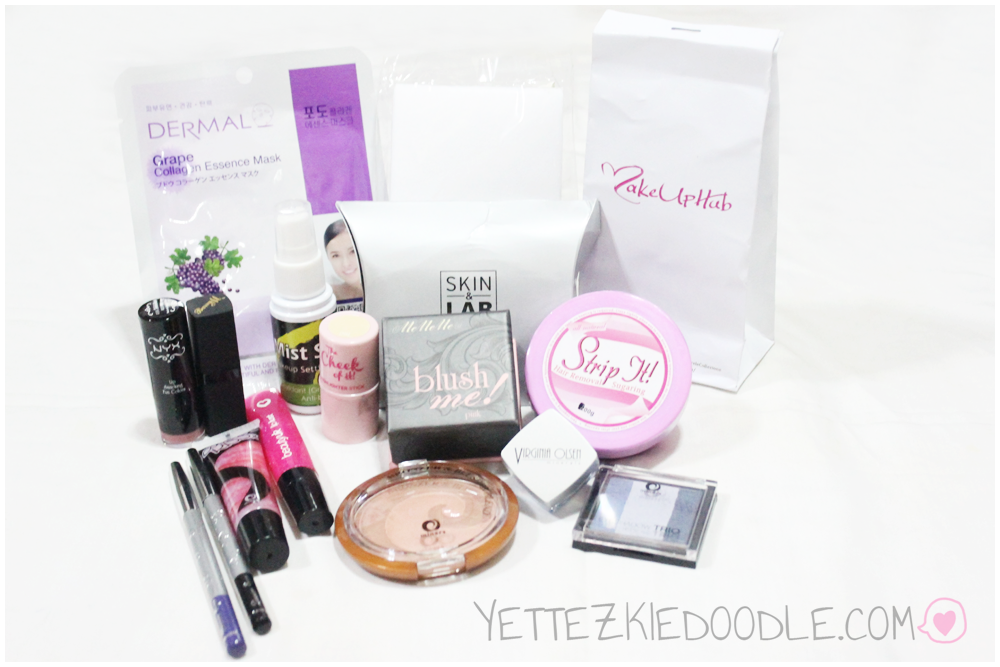 Dermal Grape Collagen Essence Mask

Skin & Lab Doctor's Care At Home

Krave Mist Spritz Makeup Setting Face Mist

Strip It Hair Removal Sugaring

Miners Cosmetics The Cheek Of It Highlighter Stick in 09L

MeMeMe Blush Me in Pink

Miners Cosmetics Bronzer & Blusher Blend in Sun Blushed

Virginia Olsen Minerals in Festival

Miners Cosmetics Eyeshadow Trio in Stonewashed

NYX Round Lipstick in Iconic

Barry M Lipstick in No. 53

Beauty UK Lip Lust in Barbie Girl

Miners Cosmetics Cocktail Kiss in Manhattan

Miners Cosmetics Dream Eyes Eye Pencil in Indigo

Miners Cosmetics Dream Eyes Eye Pencil in Really Black

Sophia Eyelash Enhancer 20% Discount Coupon (I forgot to include it at the picture, sorry)
Here's the picture that I took instantly when I got the package
Anyway, thanks again Kim! I know that this post is WAAAY late, but I promised myself that I'm going to do it, and I've been slacking off lately. (due to work, mostly) But I just want you to know that I really loved everything especially the makeup products. This only proves that it's not that impossible to win blog giveaways, and these goodies also encouraged me to join more giveaways in the future. Haha
Anyway, speaking of giveaways, last day for the February Commenter of the Month! Are you excited? I know I am. I already bought the prize for the March COM so the announcement wont be delayed anymore unlike this month, lol. Till later!
Related posts: