January 2013 | Glamourbox Unboxing & First Impressions
It's that time of the month again, when I usually receive my monthly Glamourbox package and I do my unboxing/first impression entries. But before I begin, I just would like to say, some of you guys mentioned in my previous unboxing posts that you liked my honesty in those reviews and that I should make no apologies for whatever I mentioned. Therefore, whatever you may read, not only in this post, but in all of my future unboxing entries, you will be getting my
100%
opinion. Alright? But hold your horses, everyone! I'm not saying that I'll be making a huge rant in
this
post or whatever, it's just sort of like my intro, and also like my thank you because you seem to like unboxing reviews.
Oh, and yeah, I received two January boxes from them. I'm still clearing things out. I PMd them in their Facebook Fanpage and they haven't responded yet. I subscribed to their quarterly plan so I'm kinda confued about this extra box. Both boxes are opened but I open any products from the other box. I opened the other box because I was curious if it was a gift from them because I subscribed to their quarterly plan, or whatever, but, I don't know. Like I said, I'm still confused. Waiting for their reply… Anyway…
So, on to the unboxing, yes?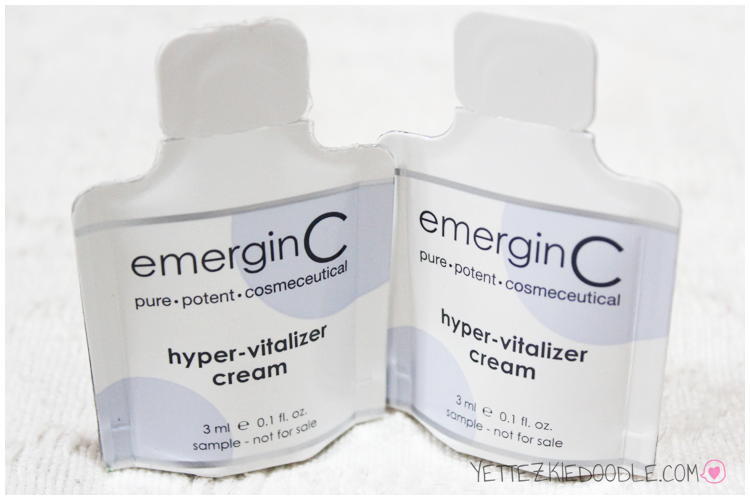 EMERGINC Hyper Vitalizer Cream |
Sample Size (Full Size 50ml – PhP 3,850 ea)
Nourish your ski with hyper-vitalizer cream, emergenC's rich, nourishing hydrating cream that combines the super-potent "master oxidant" alpha-lipoic acid, coenzyme Q10 and luteint
Now this is different. Haven't tried anything like this before. I might give this one a try, but you guys know that I am not crazy about products/sample sizes that come in sachets.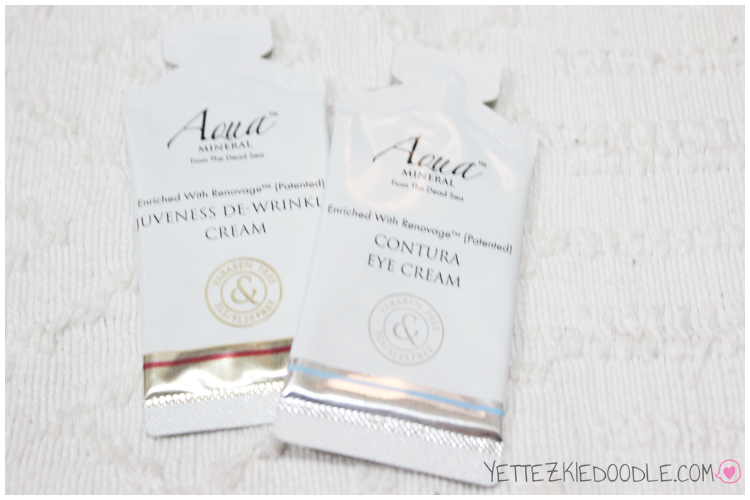 AQUA MINERAL Contura Eye Cream & Juveness De-Wrinkle Cream |
Sample Sizes (Eye Cream: 30ml – PhP 3,300; De-Wrinkle Cream – PhP 5,000)
AQUA MINERAL Contura Eye Cream – An extraordinary cream created to dramatically improve the look of delicate skin around the eyes. It lessens the appearance of fine lines.
AQUA MINERAL Juveness De-Wrinkle Cream – This outstanding face cream is a breakthrough created to instantly and dramatically iprove the appearance of the delicate skin around the eyes and on the forehead
I like the idea of including anti-aging products, but sachets cannot really prove anything, or at least show you the results that would make you want to buy the item. I would appreciate a decent sample size like they used to include in their previous boxes. At least they were big enough to show you something that will entice you to buy and own the product for good. Just saying.
LA SPLASH Enlightened Creamy Shadow Base in Illuminating | Full Size (5g- PhP 400)
Use alone or pair this cream shadow base with a pressed shadow to facilitate blending and enhance shadow color and wearability
I haven't used nor swatched this yet. But I like this product. This was the first item I saw and grabbed from the box. I haven't seen it before, and like most of you know, I don't have a lot of eyeshadow creams/bases so this is a good addition to my makeup collection. For my second box (which I don't know what to do yet), I got the Highlighting shade.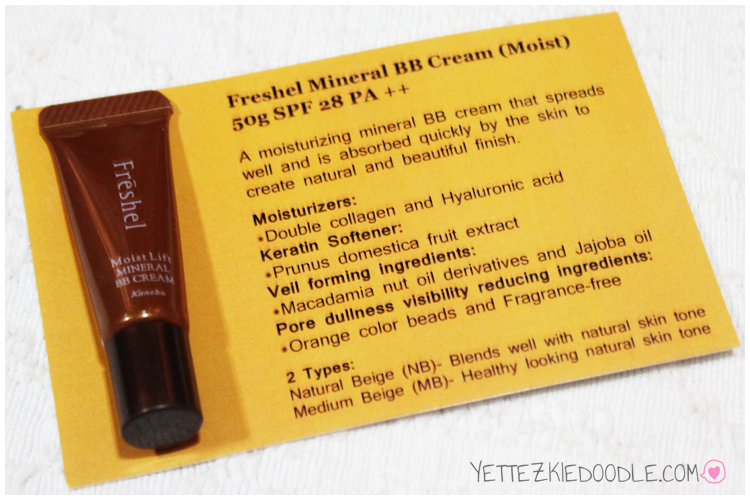 KANEBO Freshel Mineral BB Cream |
Sample Size (Full Size 50g – PhP 960
A moisturizing mineral BB cream that spreads well and is absorbed quickly by the skin to create a natural and beautiful finish
Now this is a decent sample size! Aside from the eyeshadow base, this is one of the items that I liked from this box. I'm actually wearing it right now. I ran an errand a while ago, and I thought what better way to test a new product right? So far, it's still in tact and it's been approximately 5 hours now, so let's see. I might do a review about this product soon.
KJI & CO Lip Staysss in Seductress | Full Size (7g – PhP 410)
Lip staysss semi-permanent lip balm doesn't bleed or rub off – and the staying power is 50% greater than any other lipstick in town
This is the final product that I liked in my box. I am definitely excited to try this one, and would love to test the staying power and also test the 50% greater than any other lipstick in town. Haven't used it yet, so I might use it later.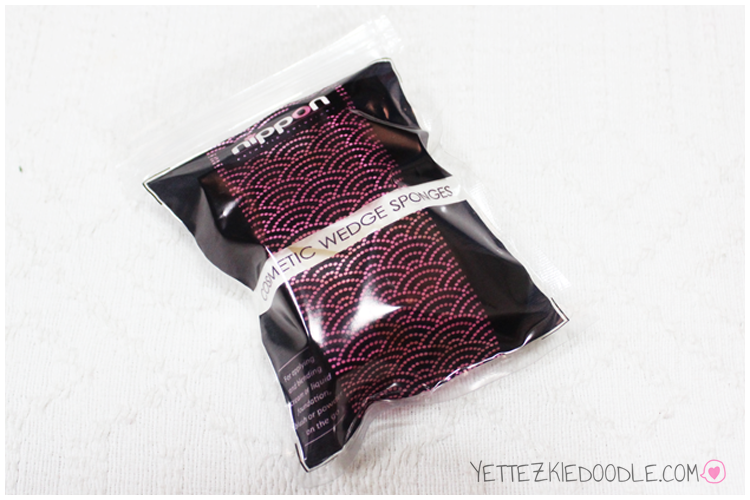 NIPPON ESTHETIC SOLUTIONS Wedge Sponges |
Sample Size (Full Size 62pcs- PhP 460
These ergonomic wedge shape sponges are the best companion for makeup application. The wedge shape allows coverage in hard to reach areas for even application
I've seen this product in the Superb Bazaar last December and I didn't bother buying one because I already have enough wedge sponges to last me for months. This is a pretty ordinary product and truth be told, I kinda got used to receiving really unique products from Glamourbox. This might be different from my wedge sponges, but for me, it's still pretty much a wedge sponge. Again, just saying.
❥
Those are the items that I have received from my January 2013 Glamourbox. Honestly, I'm not crazy about this box as I was with their previous boxes. You know I love Glamourbox and I consider them my top 1 beauty subscription service here in the Philippines, but this box did not impress me. I wasn't disappointed, to make it clear, I didn't hate it. I guess when you get two consecutive boxes that are really great you get to set really high expectations, and maybe I was just surprised by this box. Oh, and this box was also lighter than all of their boxes. I noticed that because their boxes before were somehow heavy, but now, it's just lighter than usual. But like I said, I love the three items that came with this box, so I give this box a three out of five stars.
Now if you ask me if you should subscribe in Glamourbox, I definitely still recommend it. It's still worth every peso, and you still get what you pay for. Sure this month was a let down, but at least I get to love three items. Right?
For more information Glamourbox, or if you wish to subscribe to their upcoming box, you can check out their website by clicking here.
How about you? Do you like their January box? How do you find it, so far? What beauty boxes are you currently subscribed to? Let me know!
---
–> P.S.
I have a HUGE 'Thanksgiving' Giveaway currently going on, and I invite everyone of you to join! (Open to Philippine residents only) Click here to read the mechanics and join to win!
Related posts: