Sample Room goes LIVE! :)
After several months of waiting, finally, Sample Room finally went live yesterday,
Deecember 03, 2012
. Yeah I know, I'm a bit late blogging about it but still, I would like to share with you how exciting it was to use that website and order
FREE
samples.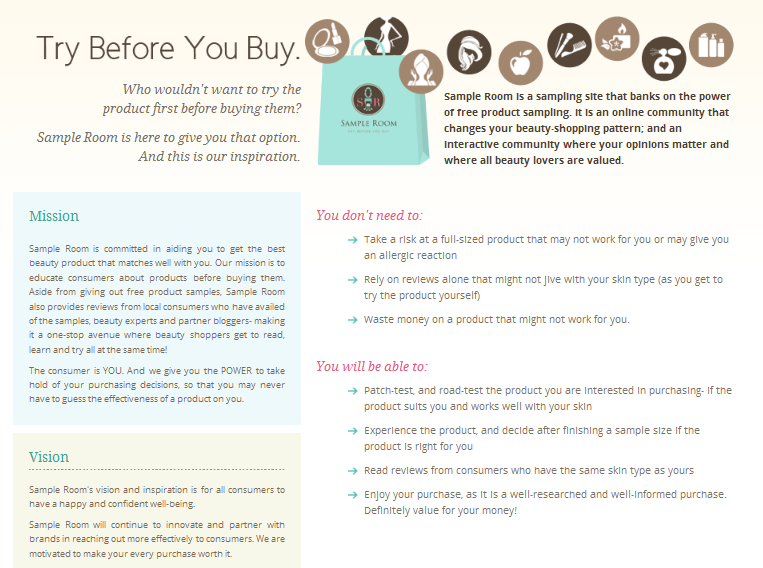 At first, when I decided to subscribe to Sample Room, I thought it was just another one of those subscription services that are suddenly trending here in the Philippines. I signed up at mid-September and I've been anticipating for their launching ever since. Then I've read somewhere that unlike Glamourbox, BDJ or Salabox, the items that we'll be getting from this website are free. The only thing that we're going to pay for is the shipping fee. And that's what? PhP 100?
Here's how the website works..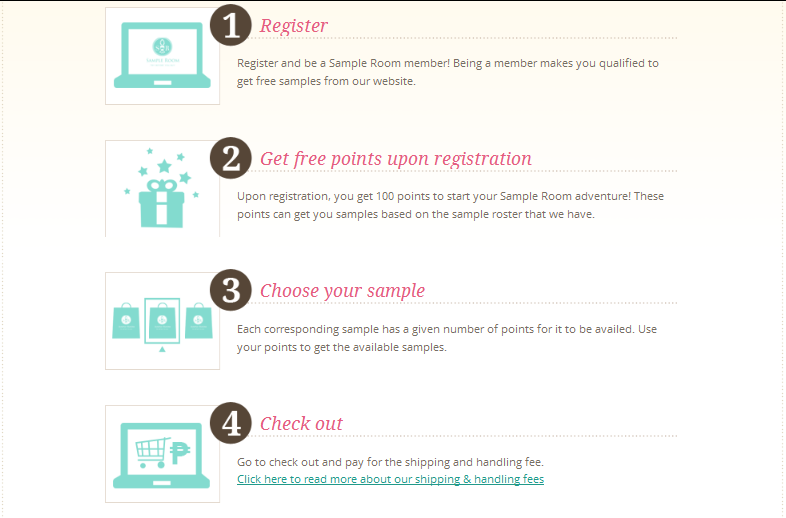 See how cool that is? Oh gosh, I sound like a kid excited for a lollipop, lol.
Anyway, I received their email last Sunday about their launching and they mentioned that any time during December 3rd, they will finally be opening their doors to new members. I was so excited last Monday, I basically had one of my browser's tab set to the Sample Room website.
Despite some technical difficulties, I was still able to register and get the sample I really wanted. They offer samples from the ff. categories:
Skin Care
Hair Care
Body Care
Fragrance
Cosmetics
Tools
Health
Slimming
Lifestyle
As of this moment, there's only one brand per sample (product), per category. They only have a limited number of stocks per product so if you're late, then you're gonna miss out with most of the items that they have. Currently, here are the website's brand partners:

As for me, I was able to get a hold of the the sample product that I've been wanting to try ever since I've heard all about it from several YT gurus. I got myself the Benefit The POREfessional Sample and it's worth 50 points. Unfortunately though, some of te other items are 'expensive' so I was no longer able to spend the rest of my points to buy other products, but still.. I definitely can't wait to receive my sample and review it in their website (and here as well, of course).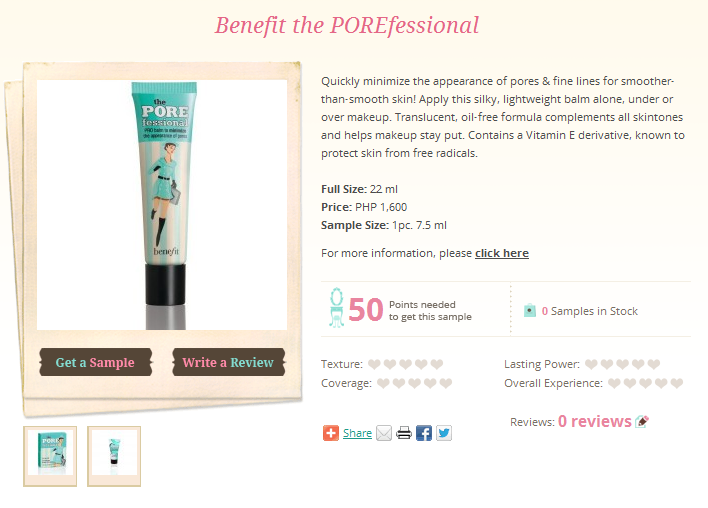 How about you guys? Did you register at the Sample Room? Did you use your points? Did you buy anything? Let me know!
Images courtesy of the Sample Room website.
Related posts: