Collective Drugstore/168 Haul (November 16, 2012)
Yeah, I know what you're gonna say.
NOT ANOTHER HAUL!!
. But I've just been out and about recently and I noticed that I splurged on drugstore makeup a couple of days ago. I also purchased a couple of things at 168, so I thought I'd share 'em with you. So before I blab on and on about nonsensical things, I thought I'd proceed with my haul/entry…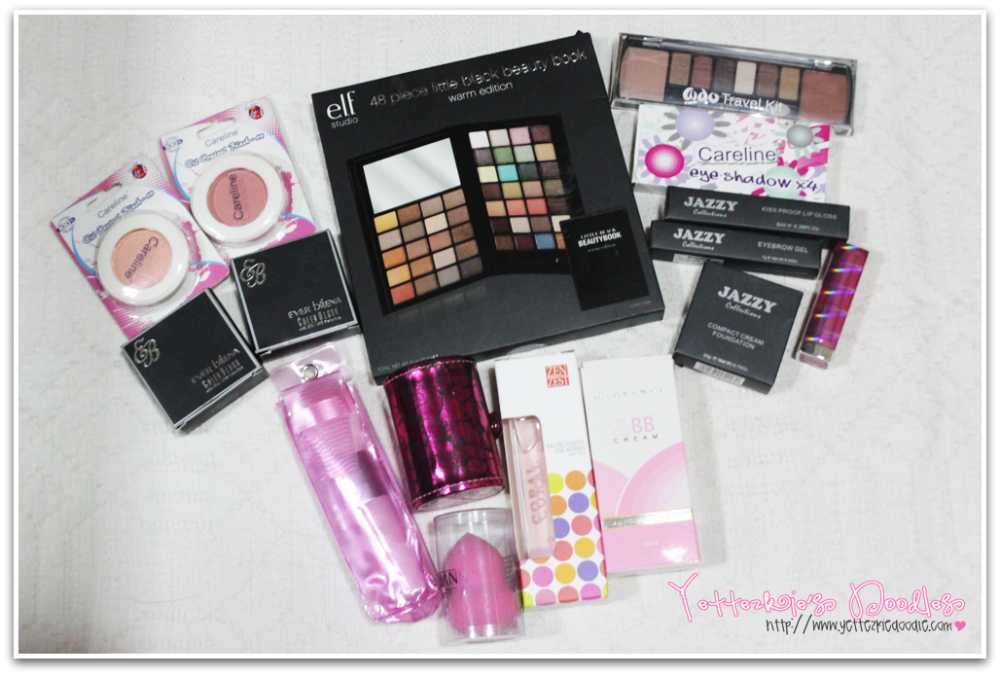 ♥ Makeup Brushes From 168
---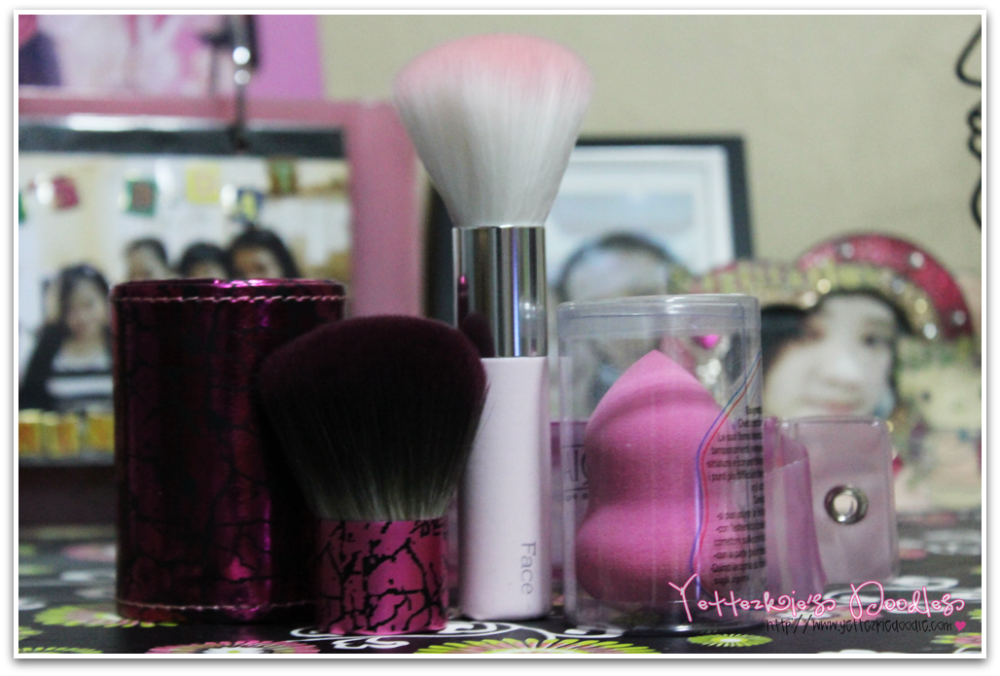 Makeup Brushes From 168 (PhP 199.75)
L-R: Pink Kabuki Brush (PhP 300); Pink Powder Brush (PhP 200); Blending Sponge (PhP 100);
168 Mall
I was actually looking for another kabuki brush that's why I went to 168. 168 has a lot of (fake) makeup stores that also sells makeup brushes and sometimes they also sell kabuki brushes. I saw a couple of them and most of them have either MAC or Bobbie Brown labels and I don't wanna buy those. But I saw this one and it's really pretty. It's soft and it's pretty dense. It comes with a matching case, and it has pink bristles, which further attracted me to it. I haven't washed it yet so I don't know whether it sheds or not, but I'll let you know soon. The pink powder brush (PhP 200), oh, I was just really intrigued by that brush and I find it really cute, and it's very soft as well. But the blending sponge (PhP 100), is very identical to the one that I purchased at the MakeUpHolics booth last September 01 at the Phil-Cosmetics Expo. And the really good part is that, it's soo cheap, and it works just as well as my old one. I love it!
Oh! Btw, if I didn't know makeup and I spotted the makeup that they're selling anywhere else, I would've assumed that they're real because I tried swatching them (out of curiosity) and some of them are so damn pigmented! (not powdery, chalky or anything, pigmented!). Seriously!
♥ Collective Drugstore Haul
---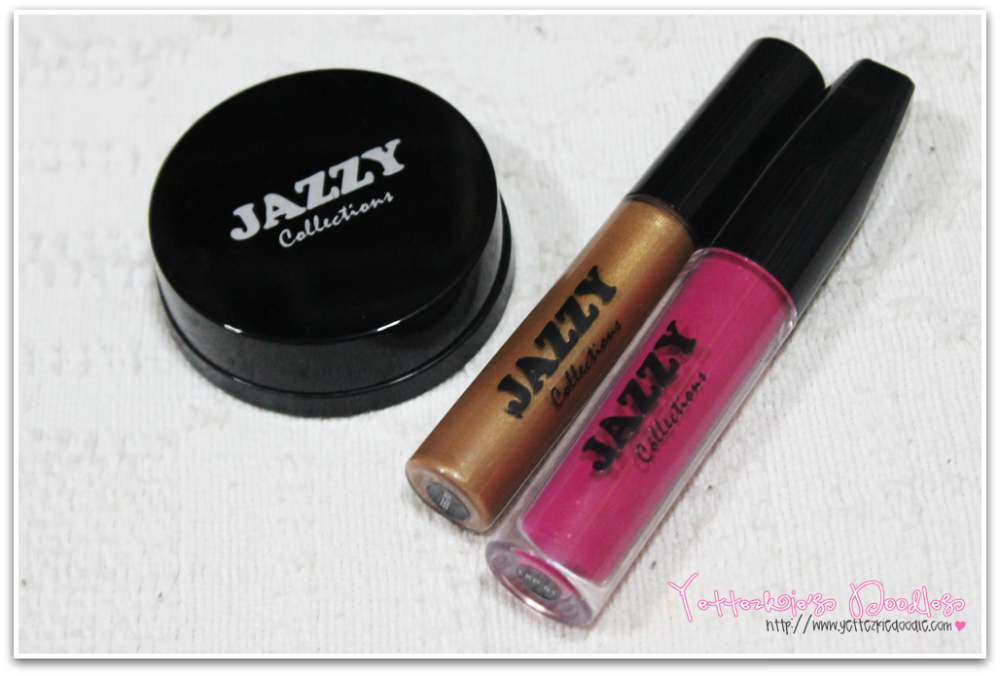 Jazzy Cosmetics (PhP 199.75)
L-R: Jazzy Cream Foundation in Beige (PhP 550);
Jazzy Brow Gel in Frosted Brown (PhP 299); Jazzy Kiss Proof Lip Gloss in Magenta (PhP 299);
SM Department Stores
I love James Cooper/Jazzy Collections. I love all of their makeup. Though they are a bit costly, I still believe that they are worth every penny. I've been planning to purchase their cream foundation, but ever since Pinky Swear/Pinkie's Collection came up with their own version, I thought to myself, why not try that one instead (since it's cheaper, lol). But they didn't have my shade so I got the Jazzy one. But I'm still happy with my cream foundation. I actually love it. Then they had their brow gel, and their kiss proof lip gloss. I love these products! The brow gel matches my hair color, and the kiss proof lip gloss is very similar to the Nyx Soft Matte Lip Creams.
Aido Travel Kit Color # 2 (PhP 140)
SM Department Stores
I actually love this travel kit. It's very pigmented and the shades are very versatile. Each of the shades are very pigmented and they're not powdery at all. They have a good staying power and I just love the colors that are included. I haven't tried the blushes yet, but once I have, I'll let you know.
Careline & Ever Bilena Blushes
L-R: Careline Blush in Rosy Cheeks (PhP 80); Ever Bilena Blush in Shy (PhP 165); Ever Bilena Blush in Earth (PhP 165); Careline Blsuh in Touch Of Pink (PhP 80);
SM Department Stores
I actually love Careline blushes. They're pigmented yet they're so cheap. They give me that simple flush/glow when I want to have a simple makeup look. They're the ones that I often grab when I want to have a simple no makeup-makeup look. Ever Bilena cheek blushes, however, are very pigmented. EB Earth gives me that sunkissed look, that I often look for in a bronzer. Shy, is more of a really pink blush, and I'm actually beginning to love this one.
Careline 4 Piece Eyeshadow Palette in Ballet (PhP 150)/font>
SM Department Stores
Uhm, I was just curious when I purchased this eyeshadow palette. Do I need it? No. Do I want it? Maybe. Is it pigmented? Yep. It has a good color payoff considering its price. But if you're asking me why I bought it, I don't know. I didn't even realize I purchased it. I just noticed that I have it when I got back home. D'oh!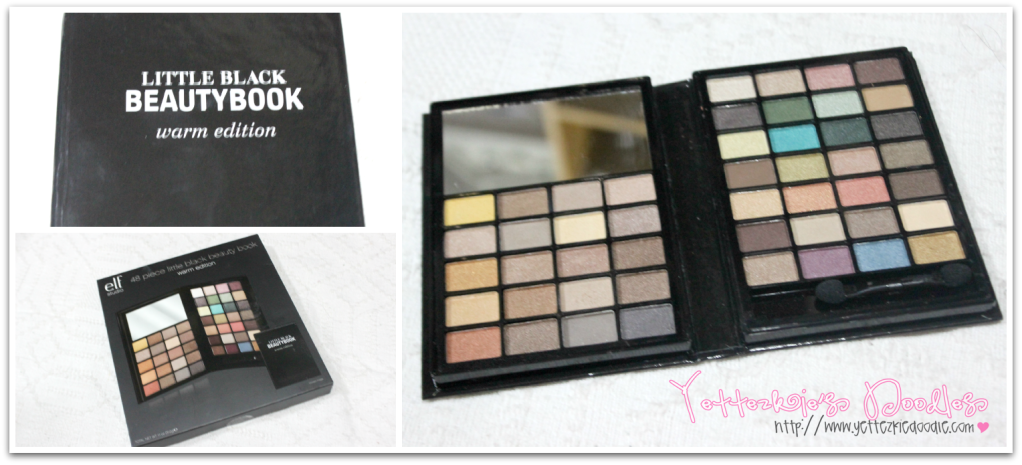 ELF Little Black Book in Warm Edition (PhP 399)/font>
SM Department Stores
I actually saw the gold version of this palette from MacBarbie07 in one of her haul videos, and according to her it's one of her fave palettes. I was actually looking forward to the gold one, but this one will do. Some of the shades are actually pigmented. Some aren't especially the matte ones. But seriously though, ELF palettes are like trial and error, you're better off with their quads than their palettes. Still, I actually love this one.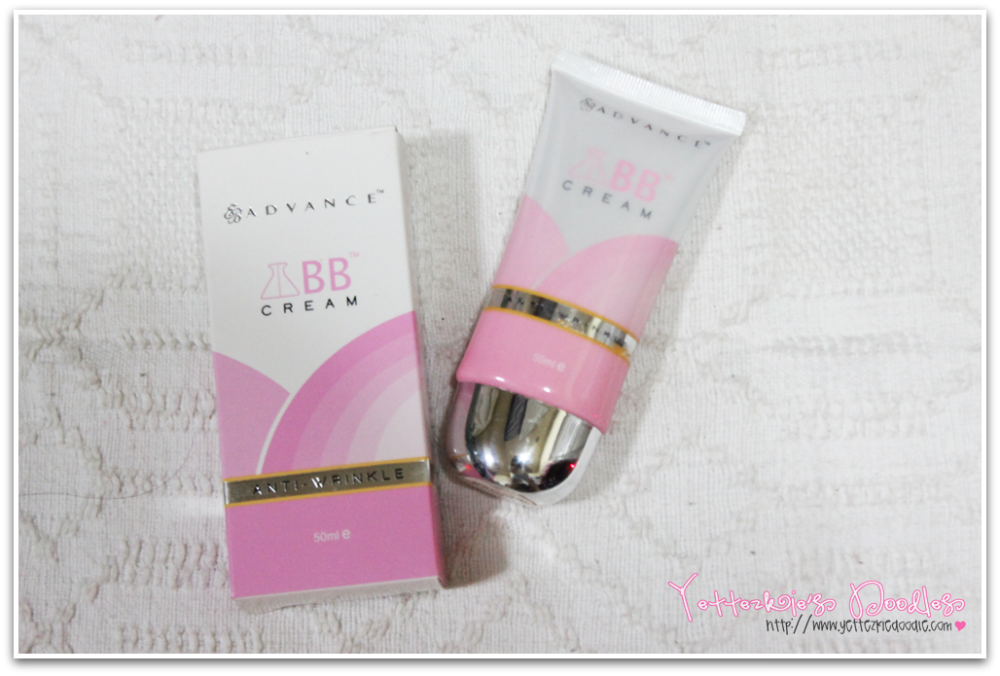 Ever Bilena Whitening BB Cream (PhP 395)
SM Department Stores
I ran out of my Shawill BB cream, and I thought of trying something else. I was thinking of buying a full-sized product of the L'OREAL Lucent Magique Skin Illuminating BB Cream but I still have a few squeezes of my sample product. Besides, I really want something that can provide more coverage.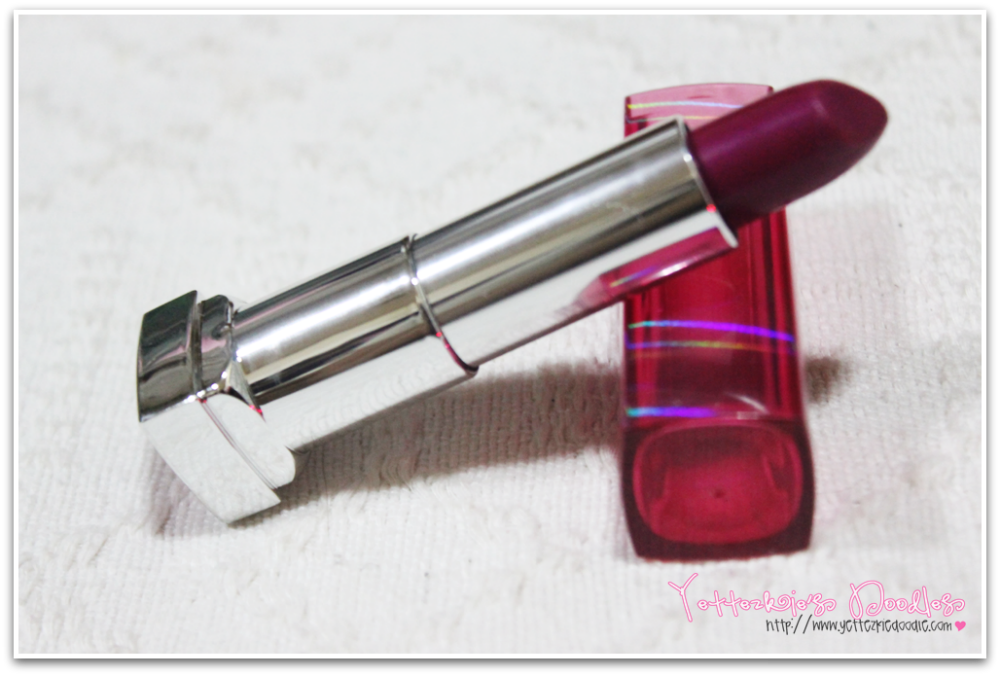 Maybelline Colorsensational Jewels Collection Lipstick in Fuchsia Crystal (PhP 399)
SM Department Stores
I am so into deep pink, plummy or berry colors. I love them. I think it fits right in to the occasion. I especially love this lip color. It goes on with a subtle smokey eye, and I just love how I can alternate it with my Smitten balm stain and my Mac Rebel.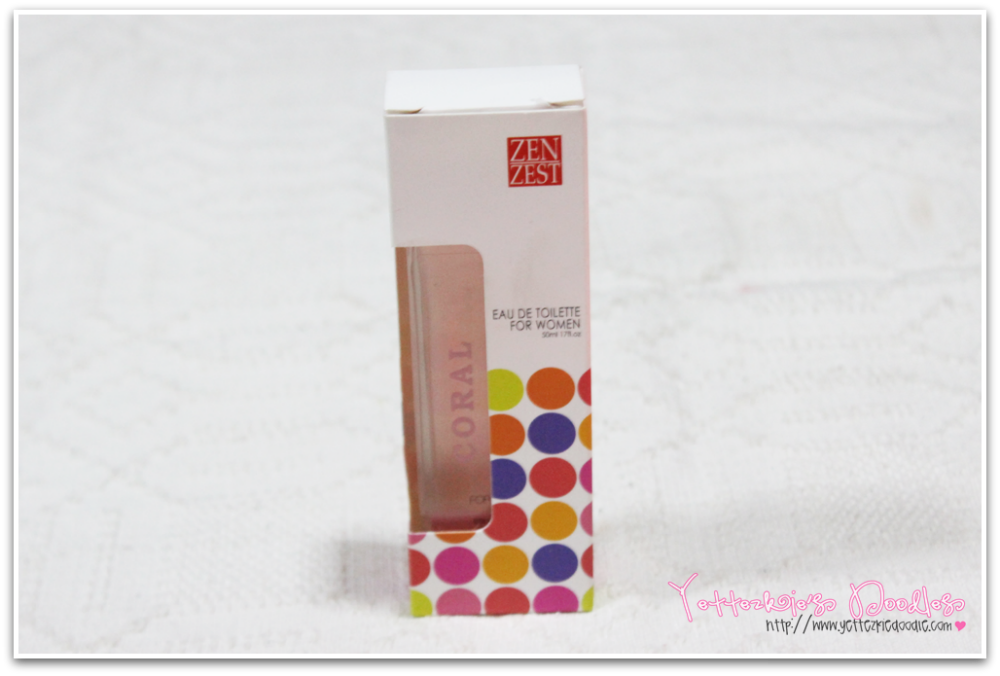 Zen Zest Coral EDT (PhP 200)
Zen Zest Counters
Since I'm low on my Thistle EDT, I thought I'd buy another one, but I've been wanting to try this scent for so long. Thing is that this EDT is often out of stock! Thank God when I stopped by at Zen Zest they already have it, so yah.. Happy to have two Zen Zest EDTs.
---
So those are all of the items that I recently purchased. I know I've been buying a lot of makeup recently. IDK, I just can't help myself. I guess I better tie myself to a chair every Friday, huh?
Oh well, just thought I'd share 'em with you, and let you know that you'll be seeing them in future reviews (although I've been slacking a bit lately. Trust me, it's not because I'm feeling lazy. Work and all. Ugh )
How 'bout you? Do you have a recent haul entry that you'd like to share? Did we buy the same stuff? Saw something you like? Comment below and let me know! Would love to hear your thoughts…
DISCLAIMER :
Please be informed that I am no expert when it comes to providing such reviews. I just love nail polishes, makeups and accessories. This is my passion, hence, I share them to you. What's written in this entry, is how I view them as I use them.
Also, please be advised that all of the products shown/disclosed in this entry are bought with my own money. This is not a sponsored entry, nor am I affiliated with any of the companies that manufactured the items mentioned above.
Thank you.
XOXO
Yette
Related posts: