November 2012 GlamourBox | Unboxing & First Impressions
Here's the box that I've been waiting for since last month!
GlamourBox
! A lot of people have been waiting for this
'unboxing'
post as well, but they're not as excited as I am. Believe it or not, I've been keeping track of Glamourbox's
Facebook fanpage
, checking out what they're going to include, when they're gonna ship (even though I know that they ship during the 10th of the month, lol), etc. But anyway, the wait's over… here's my package!
As you may know, GlamourBox is a month-to-month subscription service that costs PhP 600 monthly. They also have a number of subscription plans for you to choose from. GlamourBox contains five deluxe sample to full sized items from high-end, niche and cult brands from around the world.
And now, on to the box…
November 2012 | GlamourBox
Length : 9 inches
Width : 7 inches
Height : 2 inches

So since I'm a sucker for good packaging, I gotta say, I LOVE the packaging (agian, lol). It's bigger than Saladbox's and BDJ's boxes and GlamourBox is actually made of a harder material.
So, on to the unboxing…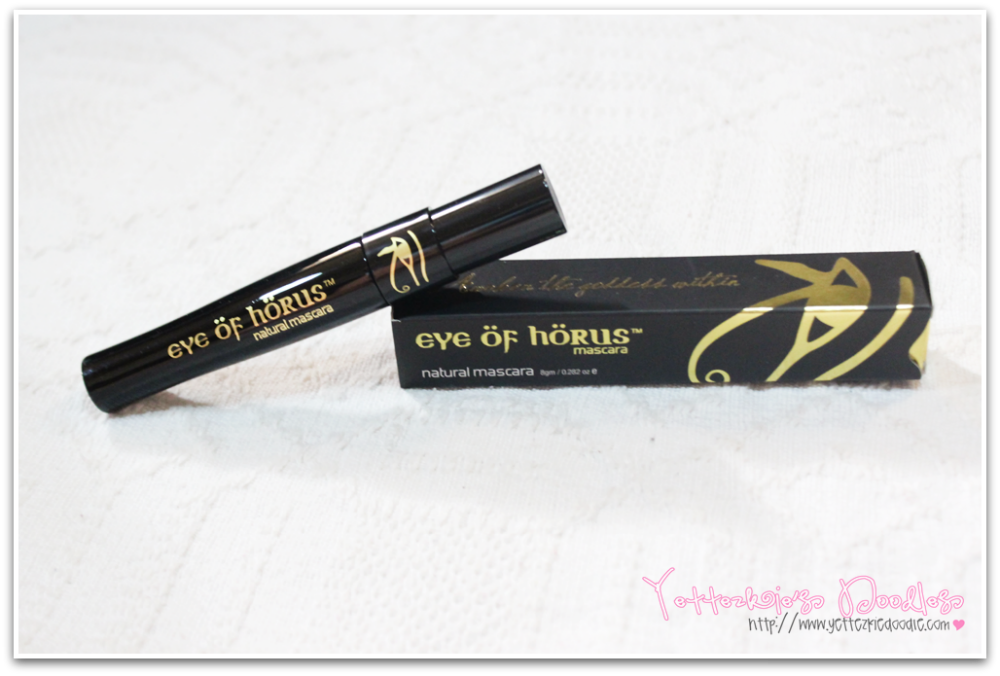 Eye Of Horus Mascara | 8gm Full Size (PhP 1,290)
Natural mascara that strengthens and lengthens for ultimate Goddess lashes
This was the first product that caught my eye and this was the first product that I grabbed immediately. I got a full size product and I loved it! I haven't tried it yet, but I love mascaras, so I definitely can't wait to try this one!
Calvin Klein Eternity Aqua | 1.2ml Sample Size (Full Size 100 ml – PhP 5.080)
Inspired by the essence of femininity in all its ease. Sexy and refreshing, the fragrance is like a clean, crisp ocean breeze
This was the same sample that I got from my previous BDJ box, and I gave it to my Mama. So I'm giving this one to her as well. But I appreciate the perfume sample, of course.
Bvlgari Omnia Amethyste | 1.5ml Sample Size (Full Size 65ml – PhP 5.098)
A noble and modern floral signature-fragrance of graceful femininity and enticing luxury
I've been familiar of the Bvlgari perfumes but I've never smelled them before, so when I smelled this I immediately liked it. So I'll definitely keep this one and use it until it's empty. I'll definitely consider purchasing a full-sized product.
Ofra Cosmetics Lipstick Palette | Full Size – PhP 1.050
A playful array of clear, light pink, dark pink, burgundy, orange tone, light brown and dark brown sades to match any outfit.
I never noticed this product actually because this was located at the far bottom of the box. Now who would've known that 8 shades of lip color can come from just one single box? Lol. Never tried this product yet, but I'll let you know if I like it.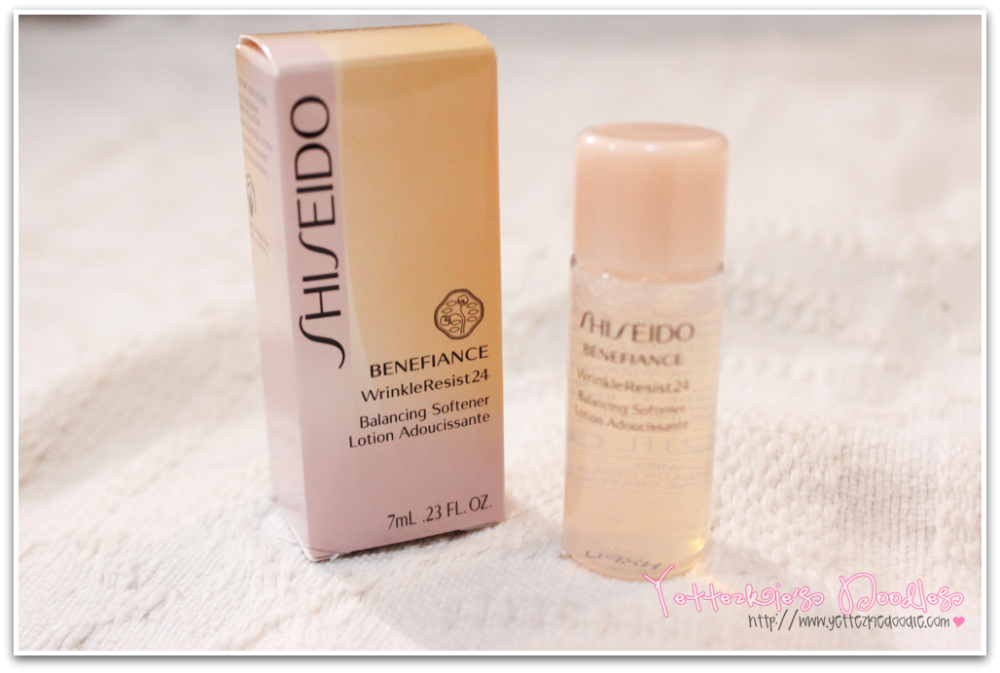 Shiseido Benefiance WrinkleResist24 Balancing Softener
7ml Sample Size (Full Size 150ml – PhP 2,400)
A rich age-defying lotion that contains the effecting ingredients to challenge signs of skin aging
I don't really use a lot of products in my face. Well, I do, but this will be another addition to it I guess. Can't wait to try it.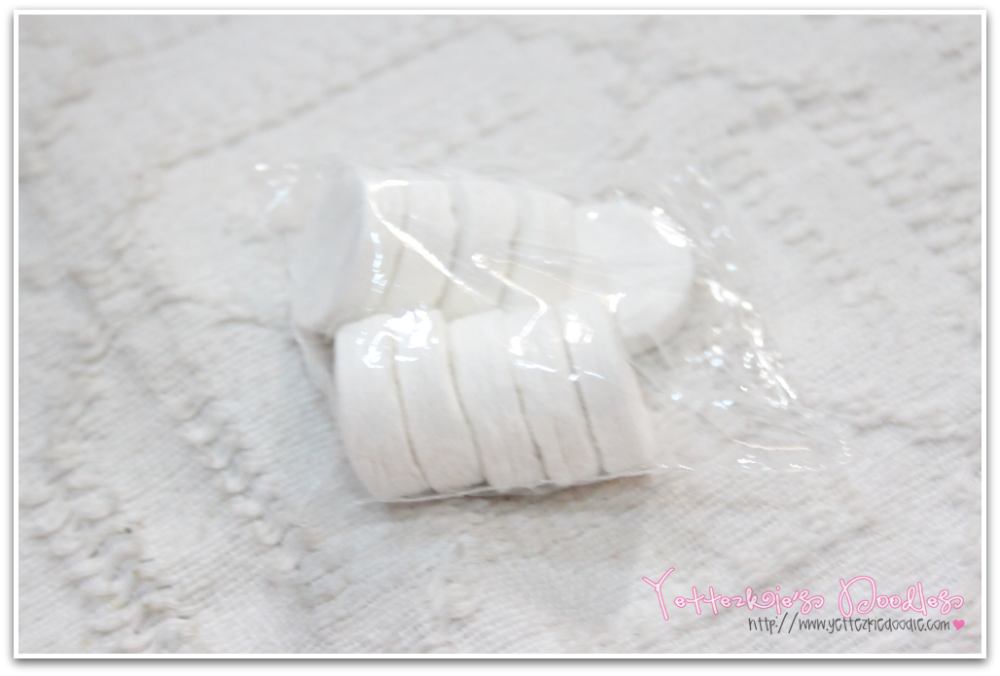 Shiseido Benefiance WrinkleResist24 Pop Up Mask
10 pcs (Full Size 12 pcs- PhP 4,150)
A concentrated treatment sheet mask that encourages skin's natural recovery function and provides a rich infusion of moisture to help improve texture. This product should be used with Shiseido Benefiance Softener.
I actually have a couple of pop-up masks here (definitely not from Shiseido, but from Landmark) and they're quite refreshing. I can't wait to use this with the Shiseido Benefiance Softener.

Yves Rocher Slimming Action Concentrate
30ml Sample Size (Full Size 150ml- PhP 1,190)
A complete slimming solution that employs the power of Green Coffee to smooth and tone the skin
Hmmm.. another skin/beauty product. I have tons now! Lol. But I actually love the Yves Rocher Hydra Vegetal Hydrating Cleansing Milk that I got from my October BDJ Box, so I might try this one soon.
I also got an Yves Rocher Gift card worth PhP 200, so yay!
BONUS!
Bvlgari Man (1.5 ml sample Size | Full Size 100ml – PhP 5.298) &
Burberry Sport (1.2 ml sample size | Full Size 75ml – PhP 4,898)
Bvlgari Man – The embodiment of elegance unadorned, the scent's balance of fresh, vibrant notes with warmer tones reflects self-confident sensuality
Burberry Sport – It captures the energy, attitude and vibrancy of the Burberry Sport collection inspired by the British outdoors. It has a woody citrus fragrance with an energizing marine start.
I surely appreciate the bonus, but I gave these to my nephew. Can't use them.
❥
So those are all of the items that I got from my November Glamourbox. I love all of them & I think that this box is a keeper. I also believe that my PhP 600 is so definitely worth it. I'll definitely be continuing my subscription to them. See you at the next unboxing!
How 'bout you guys? Did you subscribe? Do you like it so far? Do you feel like subscribing? Let me know!
Related posts: